Heavy Machine Gunner (Code Name: Roadblock, Cartoon Series)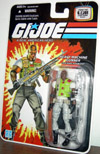 Heavy Machine Gunner (Code Name: Roadblock, Cartoon Series)
: 653569309390
Price: $29.99
ROADBLOCK wanted to be a gourmet chef. He was working as a bouncer to earn money to attend the Escoffier School in France when an army recruiter convinced him that the army could train him to be a chef. ROADBLOCK joined but found army menus and preparation techniques too appalling. Transferred to the infantry, he is a qualified heavy weapons expert.
Ready for combat complete with his machine gun and ammo, this 25th anniversary action figure is ready to stand tall in your collection!
Figure comes with machine gun and ammo accessories.