Anthony Flash Gambello (The Rise of Cobra)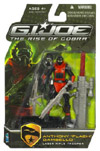 Anthony Flash Gambello (The Rise of Cobra)
Price: $24.99
ANTHONY "FLASH" GAMBELLO is a heavy laser specialist and an expert in all things electronic. He keeps the team armed with cutting edge high-energy laser weapons and pulse energy projectile systems, and he can repair weapons in the field with whatever's at hand. His preferred weapon? A Dew-series electromagnetic tactial anti-aircraft laser cannon.
Pump up your battle play with this fearless-looking action figure and his trusty weapon accessories. Plan your next move carefully to outmaneuver your opponents and save the day. Intense action and adventure are coming your way!
Action figure comes with stand, removable helmet and weapon accessories.