Sabretooth (X-Men Origins)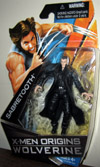 Sabretooth (X-Men Origins)
: 653569397847
Price: $64.99

On Sale! $44.99
Sabretooth was raised alongside Wolverine, and the two spent most of their lives fighting side-by-side. When Wolverine walked away from Strykerís crew, Sabretooth felt betrayed by his old friend. Now, he is Loganís most bitter enemy.
This detailed figure is ready for action! Armed with trusty weapons, this guy means business. Add him to your collection and build an unstoppable fighting force!
4" tall figure comes with weapon accessories.