Daredevil (Marvel Universe, 008)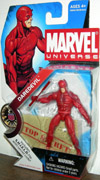 Daredevil (Marvel Universe, 008)
: 653569355755
Price: $59.99

On Sale! $34.99
Though he is blind, Daredevil perceives far more than most people. His senses heightened to superhuman levels by a childhood accident, he lives in a world of continuous sensation. He can smell lies on a manís breath, or hear the panicked heartbeat of a mugging victim from ten blocks away. His uncanny radar sense paints a detailed picture of the world around him, allowing him to dodge bullets, and survive incredible dives from the rooftops to the street.
Detailed in his form-fitting "suit", pose this Daredevil action figure in a battle-ready pose with his weapon accessory aimed at the enemy! Fully articulated, he's ready to make a stand in your collection.
3.75" scale action figure comes with a weapon accessory and a S.H.I.E.L.D. file with a secret code.