Cobra Eel - Underwater Trooper (The Rise of Cobra)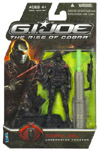 Cobra Eel - Underwater Trooper (The Rise of Cobra)
Price: $24.99
COBRA EELS are combat specialists trained to fight in any marine environment and experts with advanced underwater weapons. They defend a M.A.R.S. Industries base in the Arctic that comes under attack by the G.I.JOE team. Their preferred weapon? M.A.R.S. Industries UA-series harpoon and SMART torpedo launcher.
Pump up your battle play with this fearless-looking action figure and his trusty weapon accessories. Plan your next move carefully to outmaneuver your enemies and keep control of the water.
Action figure comes with a stand and weapon accessories.