Iron Man 2 Inferno Mission Armor (13)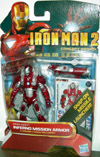 Iron Man 2 Inferno Mission Armor (13)
Price: $24.99
"Not every Iron Man suit is constructed with combat in mind. The Inferno Mission Armor is designed for search and rescue in out-of-control figures. It allows Tony Stark to move unharmed through blazes hot enough to melt steel, while searching for survivors trapped by the flames.
Features snap-on missile launcher.
Includes display base and 3 armor cards.
4"" tall."