Agent Helix - Covert Operations (The Rise of Cobra)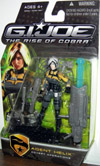 Agent Helix - Covert Operations (The Rise of Cobra)
: 653569413738
Price: $24.99
AGENT HELIX is a covert operations officer with advanced martial arts training and expert marksmanship. An Olympic-class gymnast, her distinctive "whirlwind attack" is an overpowering combination of kicks and firepower. Her preferred weapon? Dual 10mm autopistols.
Pump up your battle play with this fearless-looking action figure and her trusty weapon accessories. As you and your stealth sidekick plan your next move, choose your weapon accessories carefully outmaneuver enemy troops. Intense action and adventure are coming your way!
Action figure comes with a stand and weapon accessories.