We accept all major credit cards and ship to over 150 different countries.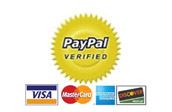 SPAWN REBORN and REBORN 2 action figures
Limited-edition redecorations of six of the most interesting and visually appealing Spawn action figures from the last several years.
SKU: 787926113556

Price: $34.99 On Sale! $14.99 Write a review | No reviews for this product.